Water Damage Rocklin CA, Water Damage Cleanup and Repair
"The entire team was very informative, helpful, polite, and professional. They went above and beyond to be sure that I knew what to expect during the cleanup process. All of my parent's belongings were packed and taken care of as if it were their own. The damage to the house was extensive, and the conditions in the house were hot and uncomfortable, but they continued to work without complaint. I would definitely recommend them to anyone that finds themselves in the same situation," – Kathleen C.

View all our 5-star reviews on Google, Facebook, Yelp, Mapquest, and BBB.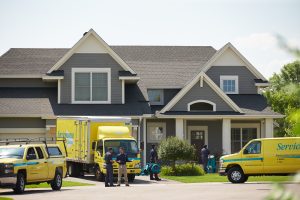 ServiceMaster By Johnson offers an extensive array of water restoration services, including water damage cleanup, repair, and water removal in Rocklin and the surrounding communities. Our highly skilled team specializes in handling water damage repair projects in both residential and commercial settings, particularly those affected by moisture accumulation. In Rocklin, water damage frequently requires immediate intervention. Fortunately, our team is fully prepared to act swiftly, initiating the water damage cleanup procedure without hesitation.
Facing large-scale losses due to sudden storm damage or grappling with smaller concerns like a dripping pipe? Our home water damage restoration service is what you'll likely require. Our professional staff supports you throughout the entire ordeal, from water removal to water restoration, and offers additional water removal solutions tailored to your specific needs. By providing a complete suite of water mitigation services, we aim to be your go-to resource for residential or commercial property restoration. If urgent water removal is necessary, we make it a priority to conduct a thorough inspection to ensure complete eradication of residual moisture.
Comprehensive Water Damage Restoration in Rocklin, CA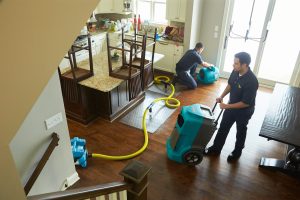 Swift action is crucial when your property experiences flooding. For most property owners, the expertise needed for effective water removal is lacking. This is where our water damage company in Rocklin, CA steps in to take charge. Be it due to cracked pipes, overflowing sinks, leaking toilets, or malfunctioning appliances, our role is to pinpoint the origin, halt the flooding, implement full-scale water damage cleanup, ensure structural drying, and then proceed with comprehensive water damage repair and rebuilding. With our all-encompassing water damage services, you only need to make one call for total peace of mind.
Our restoration specialists possess the know-how to completely eliminate flooding, facilitate evaporation, and set up the required dehumidification measures to mitigate further damage. Additionally, we assure the restoration of your property and belongings to their pre-damage condition, helping you sidestep future complications. Contact us immediately for complete restoration!
Our In-Depth Water Damage Cleanup Recovery Procedure
Immediate emergency response and thorough damage assessment form the initial phase of our recovery process. This is followed by meticulous water removal, drying, and ongoing evaluations to gauge the success of the restoration efforts. The final stage involves detailed cleaning and the reinstallation of salvaged items, ensuring your space returns to its original state.
Recommended Actions for Handling Flood Damage in Rocklin
In the unfortunate event that you're dealing with flood damage in Rocklin, we advise taking specific measures to minimize further structural deterioration or mold growth. If the source is apparent and accessible, shut it off—whether it's a valve, window, or door. Relocate furniture away from the affected region and safeguard any items susceptible to water damage. Remove as much as possible from damp carpets or flooring, particularly metal or wooden items that might stain when wet. For emergency cleanup, don't hesitate to contact us.
Actions to Avoid in Water Damage Situations
It's crucial to refrain from using a household vacuum for liquid extraction and to steer clear of any area requiring sewage backup cleaning. Ensure that wet fabrics are not left in place and that they are dried as quickly as possible. Keep colored materials off wet surfaces to avoid staining, and avoid using electronic devices while standing on damp carpets or floors, particularly if those floors are concrete. Lastly, if the ceiling is water-logged, do not turn on ceiling fixtures and avoid rooms where ceilings are sagging due to water retention.
When your home falls victim to flood damage, you can place your trust in a reliable water damage repair company like ours, renowned for exceptional water damage services in Rocklin, CA. We promise to deliver the water damage cleanup and restoration services you anticipate and the quality you deserve.
Additional Services for Sewage Damage Cleanup and Removal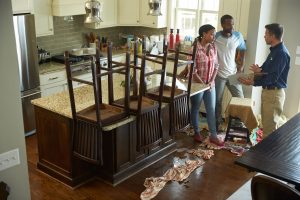 Beyond our water damage restoration offerings in Rocklin, CA, we also extend sewage damage cleanup and removal solutions. Tackling raw sewage cleanup should be entrusted to trained experts, given its complex and hazardous nature, as well as its bacterial content. Should you encounter a crisis involving broken sewage pipes, our seasoned team of certified professionals is equipped to address a wide array of sewage cleanup and repair issues.
Anytime you need us, our knowledgeable technicians are prepared to guide you on mitigating flood or sewage-induced damages. Should your home or workspace suffer from water or sewage destruction, don't hesitate to seek our water removal services in Rocklin. Our emergency services are available around the clock, and our Rocklin water damage repair team is ever-ready to assist.
Call Us 24/7 At 916-983-8084 for water damage cleanup!
More About Rocklin CA
The city's history is closely tied to the transcontinental railroad. It named the area after its granite quarry, and used the site as a refueling and water stop. The transcontinental railroad was completed in 1869, significantly increasing railroad traffic through the town. In 1906 the Central Pacific moved its facility from Rocklin to another city, where more land was available for expansion. As of August 2014, it is the largest rail facility near the US West Coast.
The post office opened in 1868. Finnish immigrants settled in Rocklin starting in the 1870s, and Spanish settlers settled during the early 20th Century. The town incorporated in 1893.
Rocklin is home to attractions such as the Sierra College.
We provide water removal services to Rocklin CA including: 95650, 95663, 95677, 95678, 95765.