Water Damage Lincoln CA, Water Damage Cleanup and Repair
"The entire team was very informative, helpful, polite, and professional. They went above and beyond to be sure that I knew what to expect during the cleanup process. All of my parent's belongings were packed and taken care of as if it were their own. The damage to the house was extensive, and the conditions in the house were hot and uncomfortable, but they continued to work without complaint. I would definitely recommend them to anyone that finds themselves in the same situation," – Kathleen C.

View all our 5-star reviews on Google, Facebook, Yelp, Mapquest, and BBB.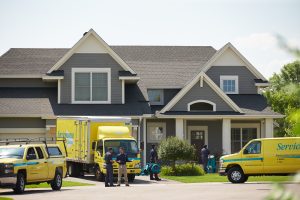 ServiceMaster By Johnson is your comprehensive resource for an array of water damage restoration services, including water damage cleanup, repair, and water removal in Lincoln and nearby areas.
When moisture-related issues arise in either residential or commercial settings, our proficient team is at the ready to conduct immediate water damage repair. With water damage often requiring swift action in Lincoln, our experts are prepared to arrive quickly and kickstart the water damage cleanup process without delay.
If you're grappling with considerable setbacks from unexpected storm damage, or even minor water damage stemming from faulty pipes, chances are you'll need specialized home water damage restoration. We guide you through each step, from water removal to water restoration, offering a complete range of water damage services tailored to your specific circumstances. Using a complete arsenal of water mitigation techniques, we aim for exceptional water restoration for both residential and commercial properties. Should emergency water removal be essential, our objective is a meticulous evaluation of your premises to ensure the elimination of all lingering moisture.
Your Trusted Water Damage Company for Restoration Services in Lincoln, CA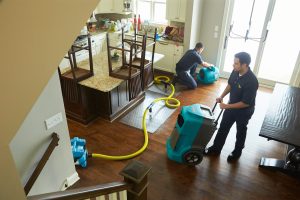 When dealing with home flooding, prompt action is crucial. Many property owners lack the knowledge for comprehensive water removal, creating a web of questions. This is where our trusted water damage company in Lincoln, CA takes over. Whether due to malfunctioning pipes, appliance overflows, or natural events, we pinpoint the root cause, cease the inflow, and proceed with exhaustive water removal, water damage cleanup, and structural drying. Subsequently, we undertake full-scale water damage repair and rebuilding. Our extensive water damage services mean you only need to make a single call.
Our restoration specialists excel in effectively extracting flood water, establishing the necessary dehumidification measures, and preventing further water damage. We also meticulously document your property's return to its original state to mitigate future risks. Reach out now for a complete water restoration experience!
Our Comprehensive Water Damage Cleanup and Recovery Process
When it comes to our comprehensive water damage cleanup and recovery process, the first step is an immediate response and assessment of water damage. Following this, we proceed with water removal, drying, and ongoing monitoring of the restoration work. The final phase involves cleaning and reinstallation, ensuring your property is fully restored.
Effective steps for mitigating further water or flood damage in Lincoln are essential. The first thing to do is to shut off the main water valve if it is safely accessible, or close any openings through which water is entering your property. Secondly, it's advisable to move furniture away from affected areas to minimize water damage. Another crucial step is to relocate any valuables that are at risk of water damage to a safer location. Also, lifting objects off wet surfaces is vital, particularly those with metal or wooden elements that could stain your flooring. In such scenarios, contacting us for immediate water damage cleanup is highly recommended.
It's equally important to know what not to do during a water damage situation. For instance, avoid using household vacuums for water removal, as they are not designed for this purpose. It's also crucial to steer clear of areas requiring sewage backup cleanup, due to the associated health risks. Wet materials should not be left in place; they need to be dried immediately to prevent mold growth and further damage. Also, refrain from leaving colored items on wet surfaces, as they can lead to staining. Electrical appliances should not be used on wet flooring to avoid the risk of electrocution. And if your ceiling is damp, do not turn on ceiling fixtures; steer clear of rooms where ceilings are sagging from retained water.
For reliable water damage repair and top-notch water damage services in Lincoln, CA, trust ServiceMaster By Johnson. We deliver the flood cleanup quality and exceptional service you deserve.
Additional Services: Sewage Cleanup and Removal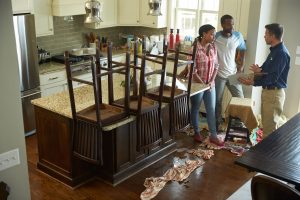 Alongside our specialized water damage restoration in Lincoln, CA, we also provide expert sewage damage cleanup and removal services. Addressing sewage issues should be left to trained professionals, as untreated sewage can be exceedingly hazardous and teeming with harmful bacteria. Direct exposure can result in significant harm to both your property and health.
Our seasoned technicians also offer guidance on precautionary measures to minimize flood or sewage damage. Should your home or office incur water or sewage damage, don't hesitate to contact us. We provide 24/7 emergency services, and our team is ever-prepared to assist you.
Call Us 24/7 At 916-983-8084 for water damage cleanup!
We provide services to Lincoln CA including: 95648, 95765.