Water Damage Folsom CA, Water Damage Cleanup and Repair
"The entire team was very informative, helpful, polite, and professional. They went above and beyond to be sure that I knew what to expect during the cleanup process. All of my parent's belongings were packed and taken care of as if it were their own. The damage to the house was extensive, and the conditions in the house were hot and uncomfortable, but they continued to work without complaint. I would definitely recommend them to anyone that finds themselves in the same situation," – Kathleen C.

View all our 5-star reviews on Google, Facebook, Yelp, Mapquest, and BBB.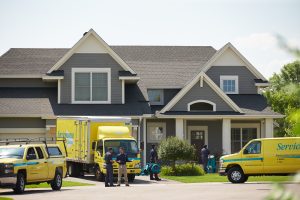 ServiceMaster By Johnson is your go-to water damage company for comprehensive water damage restoration services in Folsom and nearby regions. Specializing in all aspects of water damage repair, we act swiftly to manage water removal, cleanup, and structural repairs, making us a one-stop-shop for all your water damage needs.
If you're contending with water damage caused by excessive moisture or flooding in residential or commercial spaces, our expert team is well-equipped to initiate the water damage cleanup immediately. Whether the source is a significant event like storm damage or a minor issue like a dripping pipe, we cover a broad spectrum of water damage restoration solutions. Our comprehensive services include not only water extraction but also full-scale water restoration and other specialized water removal techniques, adapted to your unique situation.
In emergency cases requiring urgent water removal, our team conducts a thorough inspection of your property to guarantee complete moisture eradication.
Water Damage Restoration and Cleanup Services in Folsom, CA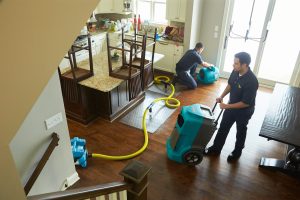 Timing is crucial when dealing with flooding in your home. Property owners often find themselves puzzled about how to undertake water removal effectively. That's where our water damage company in Folsom, CA steps in. Regardless of the cause—whether it's burst pipes, overflowing sinks, or faulty appliances like dishwashers or washing machines—our team quickly identifies the issue, stops the water flow, and begins comprehensive water damage cleanup, repair, and restoration. One call to our water damage company delivers all-encompassing water damage services.
Our restoration experts excel in eliminating excess water, overseeing proper evaporation and dehumidification to prevent additional water damage. Our meticulous documentation ensures the enduring restoration of your property and belongings. For complete water damage restoration and repair services, get in touch with us now.
Our Comprehensive Water Damage Cleanup and Restoration Process
The initial step in our approach involves an immediate response to your emergency, followed by a thorough assessment of the water damage. This quick action is crucial to understanding the extent of the damage, thereby enabling us to devise a strategic plan for effective water removal and restoration.
The second phase focuses on efficient water removal, drying, and the continuous monitoring of the restoration process. Using advanced water extraction equipment, our team performs water removal efficiently to mitigate further damage. Throughout the restoration phase, we consistently monitor the drying process to ensure optimal results, keeping you updated on the progress.
Lastly, we undertake cleanup and reinstallation procedures to restore your property to its pre-damage condition. This includes the cleaning of affected areas and reinstalling any removed components, ensuring the living or working space is fully functional and safe.
Recommended Actions for Immediate Flood Damage Control in Folsom
If you're facing a flood or water damage situation, your immediate actions can significantly impact the outcome. If the source of the water is visible and safe to approach, it's crucial to shut off the main valve or seal any openings that allow moisture to enter your property. This can be the first step in mitigating the damage while awaiting professional water removal services.
Additionally, make sure to move any furniture or items off damp floors or carpets. Items with metal or wooden legs or supports can cause staining, so relocating them can help preserve your flooring. Moving these items also creates space for more effective water extraction and drying processes.
Furthermore, move furniture away from the affected zones to prevent additional water damage. Also, secure all valuables that might be susceptible to water damage by placing them in a dry and safe location. If the situation calls for immediate water damage cleanup, don't hesitate to contact us.
Actions to Avoid During a Water Damage Situation
Certain actions can hasten water damage, so it's important to know what not to do. For instance, do not use your household vacuum cleaner to remove water; these appliances are not designed for water removal and can be dangerous to use in such situations.
Avoid touching any objects or areas requiring sewage backup cleanup. Sewage water can be hazardous to health, containing harmful bacteria and contaminants.
Leaving colored items like books and magazines on damp carpets or floors is also a mistake, as these can leave stains. Make sure to remove them as soon as possible.
When dealing with wet fabrics, dry them promptly; do not leave them in place. The sooner you can dry affected fabrics, the less likely they are to foster mold growth or suffer from color bleed.
Lastly, avoid using electrical devices or appliances while standing on wet surfaces, especially concrete floors. Similarly, refrain from turning on ceiling fixtures in rooms where the ceilings are water-logged, as this could pose a safety risk.
By following these guidelines, you can minimize further damage until our professional water damage cleanup and restoration team arrives to take over.
Sewage Damage Cleanup and Additional Services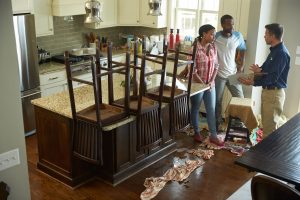 At our water damage company in Folsom, our services extend beyond water damage repair to include sewage damage cleanup and removal. Our trained technicians not only handle the cleanup but also educate you on minimizing damage during water or sewage overflows.
Dealing with raw sewage is a risky job and should be managed by professionals. Raw sewage can contain harmful bacteria, potentially causing illnesses and significant property damage. If you're faced with water or sewage damage, don't hesitate to reach out to us. Our emergency water damage and sewage services are accessible 24/7, and our team is always prepared to assist you.
Call Us 24/7 At 916-983-8084 for water damage cleanup!
Your Solution to Water Damage in Folsom CA
If your home has suffered the effects of water damage, work with a water damage restoration company that you can rely on for exceptional water damage services. We provide you with the flood cleanup that you expect and the service that you deserve. ServiceMaster By Johnson is located at 202 Wales Dr, Folsom, CA 95630 and we can be reached at 916-983-8084.