Water Damage Fair Oaks CA, Water Damage Cleanup and Repair
"The entire team was very informative, helpful, polite, and professional. They went above and beyond to be sure that I knew what to expect during the cleanup process. All of my parent's belongings were packed and taken care of as if it were their own. The damage to the house was extensive, and the conditions in the house were hot and uncomfortable, but they continued to work without complaint. I would definitely recommend them to anyone that finds themselves in the same situation," – Kathleen C.

View all our 5-star reviews on Google, Facebook, Yelp, Mapquest, and BBB.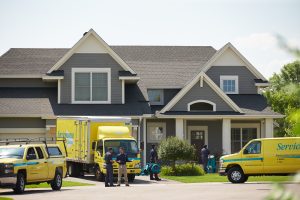 ServiceMaster By Johnson is your go-to solution for comprehensive water damage services, including water damage cleanup, water damage repair, and water removal in Fair Oaks and its surrounding regions. Our proficient team is well-equipped to manage water damage in both residential and commercial settings that occur from an accumulation of moisture. In Fair Oaks, water damage is often time-sensitive, requiring immediate intervention. Our specialists arrive promptly to initiate the water damage cleanup and water restoration process without delay.
If you're grappling with a large-loss due to sudden storm damage or dealing with minor issues like a leaky pipe, you'll likely need specialized home water damage restoration services. Our experts guide you through every phase, from water extraction to water restoration, offering a range of water removal services tailored to your unique situation. Using the latest in water mitigation technologies, we are committed to restoring your residential or commercial property to its best condition. In urgent cases requiring emergency water removal, we thoroughly inspect your property to ensure all excess moisture has been effectively eliminated.
Expert Water Damage Restoration Services in Fair Oaks, CA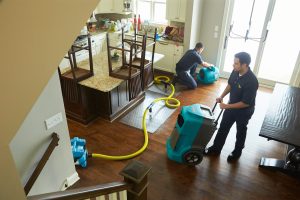 Timing is crucial when your property experiences flooding. Our water damage company in Fair Oaks is designed to answer all your questions about complete water removal and water damage cleanup. Whether the cause is a broken pipe, sink overflow, or appliance malfunction, our team can swiftly stop the flooding, undertake full water extraction, initiate water damage cleanup, structural drying, and conclude with comprehensive water damage repair and rebuilding. We are your one-stop-shop for all your water damage services needs in Fair Oaks.
Our restoration experts are well-versed in efficient flooding removal techniques to ensure proper evaporation and dehumidification, thereby preventing further water damage. Additionally, we document the restoration process meticulously to make sure you won't face future issues. Contact us now for complete water damage restoration!
Our Water Damage Cleanup Recovery Process
Our process begins with a rapid response and a thorough assessment of the damage. As soon as we arrive, our team of experts evaluates the extent of the water damage, which helps us decide the most effective way to tackle water removal, drying, and restoration.
The next step involves thorough water removal, followed by drying. We continually monitor the progress of the restoration to ensure that all elements—structural and otherwise—are drying properly and as expected. This is crucial for preventing further damage, like mold growth or structural issues.
Finally, our process concludes with cleaning, sanitization, and reinstallation of any affected areas. We ensure that your space not only looks good but is also safe and free from contaminants, ensuring a complete recovery from water damage.
---
Proactive Steps to Mitigate Flood Damage in Fair Oaks
If the source of the water damage is visible and accessible, it's crucial to shut off the main valve or close any windows or doors where moisture is getting in, if possible. This immediate action can significantly limit the extent of the water damage.
Furniture and other items should be relocated from the water-damaged area. This helps prevent additional damage to your furniture and makes it easier for our team to access the affected area for water removal and cleanup.
It's also essential to secure any valuables that could be further damaged by the water. Time is of the essence, so act quickly to remove these items from the affected area.
Additionally, you should move any objects off of wet surfaces, especially those with metal or wooden legs or supports, to prevent staining of carpets or hardwood floors. If in doubt, give us a call for emergency water damage cleanup.
---
What You Shouldn't Do
Using a household vacuum cleaner to remove water is highly discouraged. Such appliances are not designed for water removal and can be dangerous when used improperly.
Avoid touching anything that may require sewage backup cleanup. Raw sewage contains harmful bacteria and can be extremely hazardous to your health.
Wet fabrics should not be left in place but should be dried as quickly as possible. Leaving them wet can encourage mold growth and further damage.
Also, avoid leaving books, magazines, or any colored items on wet surfaces as they can cause staining. Use extreme caution when using electronic appliances on wet surfaces, especially concrete floors, to avoid electric shock.
Stay out of rooms where ceilings are sagging due to water retention, as this is a sign of severe structural damage that could be dangerous.
For dealing with the aftermath of flood damage, rely on a trusted water damage repair company for top-tier water damage services in Fair Oaks, CA. ServiceMaster By Johnson delivers the flood cleanup and water restoration services you expect and deserve.
Comprehensive Sewage Damage Cleanup and Removal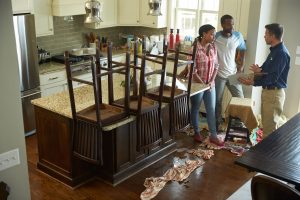 In addition to our water damage restoration services in Fair Oaks, CA, we also offer sewage damage cleanup and sewage removal. Managing sewage cleanup requires skilled professionals, as raw sewage is hazardous and loaded with harmful bacteria. Exposure can result in severe health risks and extensive property damage.
Alongside our timely and efficient services, our well-trained technicians educate you on preventive measures to keep water and sewage damage to a minimum. Should you find your home or office affected by water or sewage damage, do not hesitate to reach out. We offer 24/7 emergency services and our team is always ready to assist.
Call Us 24/7 At 916-983-8084 for water damage cleanup!
More About Fair Oaks CA
The town center of Fair Oaks is called Old Fair Oaks Village. The Veterans Memorial Amphitheatre is located in this part of town. The Fair Oaks Theater Festival takes place here. The village area also hosts the Fair Oaks Fiesta and Car Show. The annual Fair Oaks Chicken Festival takes place there in September.
There is a Fair Oaks History Center telling the story of the founding and development of Fair Oaks with displays featuring pictures dating from the early 1900s and many artifacts from the same period. There is also a small collection of Maidu Indian artifacts.
Fair Oaks is home to attractions such as the Nimbus Dam Recreation Area.
We provide services to Fair Oaks CA including: 95628.