Water Damage Placerville CA, Flood Damage Repair and Sewage Cleanup
"The entire team was very informative, helpful, polite, and professional.  They went above and beyond to be sure that I knew what to expect during the cleanup process.  All of my parent's belongings were packed and taken care of as if it were their own.  The damage to the house was extensive, and the conditions in the house were hot and uncomfortable, but they continued to work without complaint.  I would definitely recommend them to anyone that finds themselves in the same situation," – Kathleen C.

View all our 5-star reviews on Google, Facebook, Yelp, Mapquest, and BBB.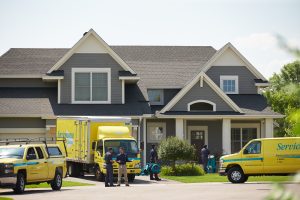 ServiceMaster By Johnson offers a variety of restoration services including water damage removal, cleanup, and repair throughout Placerville and the surrounding areas.
We work in homes and offices to handle water damage repairs that result from when moisture or water builds up. In many cases, Placerville water damage can require immediate service and our team is able to arrive promptly to start the water cleanup process as soon as possible.
Our water damage restoration specialists are experienced in how to handle flood cleanup completely, making sure evaporation occurs, and establishing the dehumidification needed to stop further damage. Moreover, we can document the return of your property and contents to normal conditions to ensure that future problems will not be experienced. Call us now for complete water damage restoration!
Water Damage Restoration Services in Placerville CA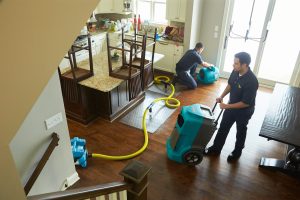 If you have a bit of broken or leaky pipe water damage, or worse, a large-loss from unexpected flood damage, you probably need some kind of home water damage restoration. You have little time when there is flooding in your home. Most property owners are not familiar with the critical things needed for complete water removal, and thus have a lot of questions. That's where our water damage company in Placerville CA comes in.
Whether it is from a sink overflow, bathtub overflow, toilet overflow, air conditioner leaks, water heater, refrigerator, washing machine, or dishwasher overflow, sump pump failure, broken or leaky pipes, hardwood floor water damage, or crawl space water damage in Placerville CA. We will find the source, stop the flooding, provide full water extraction, water cleanup, and structural drying, and then full water damage repair and rebuild. With our water damage services, we do it all so you only need to make one phone call.
We promise to be with you through each and every step of the process such as the water extraction, water restoration, and other water removal services that are fitted to your circumstances. We use all readily available water mitigation services to provide you with the best residential or commercial property restoration. When you require emergency water removal, we make it our mission to check your home from top to bottom to make sure that all excess water and moisture is eliminated.
Our recovery process for water cleanup includes the following:
Emergency response and assessment of damage
Water removal, drying and an ongoing assessment of the progress of the restoration
Cleaning and reinstallation
If you have flood damage in Placerville, we suggest you take the following steps to help eliminate more severe structural damage or the development of mold.
If the source is visible and safely accessible, shut off the main valve or close the window or door from which water is getting into the property.
Remove all valuables that can be damaged.
Remove furniture from the affected area.
Move as much off the wet carpet or floor as possible, especially objects with metal or wooden legs or supports. These items will stain the carpet or hardwood floors when wet.
Give us a call for emergency water damage cleanup!
What you 

shouldn't do

if you have water damage
Touch anything that requires sewage backup cleanup.
Use your household vacuum to remove water.
Leave any books, magazines, or other colored items on wet carpet or floors.
Leave wet fabrics in place; dry as soon as possible.
Turn on ceiling fixtures if the ceiling is wet; make sure you keep out of rooms where ceilings are sagging from retained water.
Use TVs or other appliances while standing on wet carpet or floors, especially not on wet concrete floors.
If your home has suffered the effects of water damage, work with a company that you can rely on for exceptional water damage services in Placerville CA. We provide you with the flood cleanup that you expect and the service that you deserve.

Sewage Damage Cleanup and Removal Services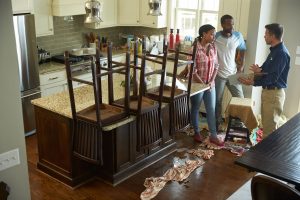 In addition to providing water damage Placerville CA, we also provide sewage damage cleanup and sewage removal services. Only trained professionals should handle Placerville sewage cleanup as raw sewage is difficult to mitigate, extremely dangerous and contains high amounts of harmful bacteria. Coming in contact with raw sewage can severely damage your property and valuables and worse of all, cause disease.
Our knowledgeable and experienced technicians can also educate you on what you should do and not do to keep the flood or sewage damage as minimal as possible. If your home or office has experienced damage from water or sewage, don't wait to get in touch with us. We have 24/7 emergency service and our team is standing by to help.
Call Us 24/7 At 916-983-8084 for water damage cleanup!
We provide services to Placerville CA including: 95667.
Learn more about Placerville CA
After the discovery of gold at Sutter's Mill, by James W. Marshall in 1848 sparked the California Gold Rush, the small town now known as Placerville was known as Dry Diggin's after the manner in which the miners moved cartloads of dry soil to running water to separate the gold from the soil. Later in 1849, the town earned its most common historical name, "Hangtown", because of the numerous hangings that had occurred there. According to the museum guide at the Fountain & Tallman Museum, there were only three hangings that occurred after three men on horseback came into town with guns ablaze. The name stuck after that. By about 1850, the temperance league and a few local churches had begun to request that a more friendly name be bestowed upon the town. The name was not changed until 1854 when the City of Placerville was incorporated. At its incorporation Placerville was the third largest town in California.
Placerville is home to attractions such as Hangtown Gold Bug Park.